AUTOCLAVE
PRIMA
Technical evolution, great design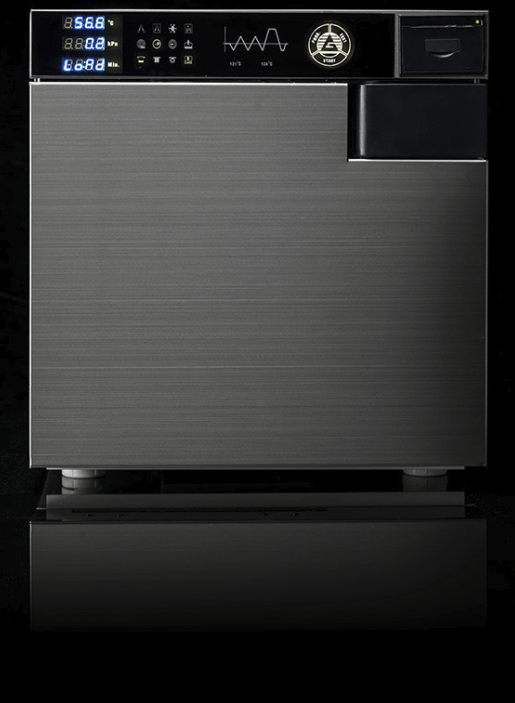 Our Galbiati Lab, 100% Italian
Department of "research and development", created PRIMA, Class B steam sterilizer with an uninitiated design sense of aesthetic cleanliness combined with technology state-of- the-art and easy to use.
Solid, easy to use with an uncommon elegance, it's the new born of the Galbiati family, the first Italian production company of dental units.
Please fill-in to download product brochure
For further information about our products or to find the area distributor contact us
"I have never seen an autoclave like Prima which restarts by choosing a pipeline cleaning program"
What struck us most was the PRIMA Autoclave reliability. What impressed us the most was the Research and Development of company Galbiati Milano: great attention for an innovative design of the product and outstanding technical evolution.
In brief, Prima Autoclave is a perfect union of parts: best technical performance, guaranteed reliability, and stable innovation.
Rated voltage: a.c.220V-230V, 50Hz
Rated power: 18L 1500VA, 23L 1700VA
Material: stainless steel (for medical)
Max. work pressure: 2.5 bar Min. work pressure: -0.9 bar
Max. temperature: 145 °C
Chamber volume: 18L (Φ245×320mm) 23L (Φ245×450mm)
Loading size: 18L (198×204×285) 23 L(198×204×385)
Max. loading weight: 18L (3.07kg/cm2) 23L (3.21kg/cm2)
Working pressure/temperature: 1.10~1.30bar / 121°C~122°C; 2.10~2.30bar / 134°C~135°C
Water volume for one cycle: 0.16L (min) 0.18L(max)

Fast cycles (26min for HOLLOW 134°C)
Limited water consumption
Automatic water download
100% steanless steel
Electronic water quality control
Easy to position system
GKE helix comformity test
Integrated printer and usb data saving systems
24 months warranty
Simple and intuitive control panel
Cycle diagram display for live work control
Quick and easy water supply and drainage connection
4 storey trey door, usable also for surgical trey
Custom USB flash drive for PC cycling
CD installation program saving PC cycles