OZONE IMPLANT DEVICE
O3 IMPLANT
Effectiveness and best safety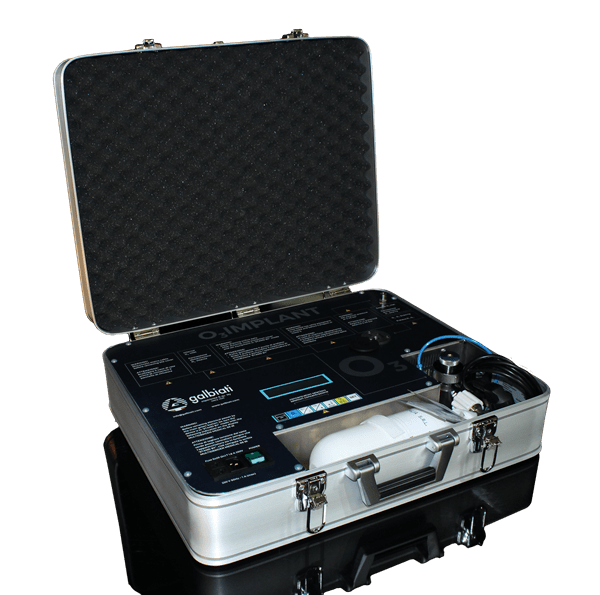 Our Galbiati Lab, 100% Italian
The O3 IMPLANT device is specifically designed for dental purposes. O3 IMPLANT uses the beneficial properties of ozone to achieve three objectives: the oxygen-ozone therapy treatments for patients, the sanitization of surgical instruments and dental implants and the production of ozonated water.
Ozonated water soothes pain, reduces inflammation and stimulates the cellular metabolism, favouring the regeneration of gingival tissue.
Furthermore, ozonated water eliminates pathogenic bacteria and fights against the intestinal dysbiosis. O3 IMPLANT ozonated water favours the oral hygiene and eliminates toxins.
Please fill-in to download product brochure
For further information about our products or to find the area distributor contact us
"A device with such great power of bacterial decontamination allows to save time, to stop infections in progress and to prevent surgical actions which are both hard for the patience and the dentist. A device with such state-of-art technology in infections control let the clinic to be a step ahead of its competitors".
CONCENTRATIONS: till 60 μg/ml
QUICK SELECTION: 10 customizable user selections with the possibility of oxygen supply
SAMPLING METHOD: syringe or continuously (using the sampler)
PHOTOMETER: VIS based, one-way, automatic zero
RESOLUTION: 1μg
SELF-TEST FUNCTION: Photometric automatic zero checking, O₂ supply pressure checking internal diagnostics
O2 SUPPLY: From internal tank or from external source (tank or central system)
FLOW: ~1lt/min
SIZE: 550x165x450 mm